EdenFantasys has a better vibe to it than other online adult toy suppliers I've dealt with.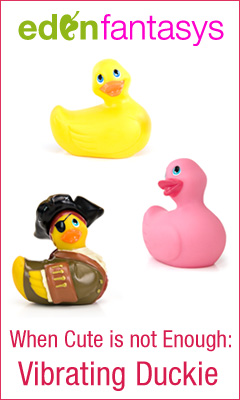 The company, well known, reputable & intriguing, is easy to navigate, spacey, colorful & somewhat classy (
interesting huh? read on
). It silently screams, "Check me out!" While competitors use each product's individual packaging (
usually flaunting half nude people
) to advertise what's for sale, here you'll find
pictures of only the product itself
.
Beyond that, they provide actual ratings & reviews given freely by people like you & I.
Through this "up close & personal" system, you'll be able to get an idea of the following...
Average Review Rating
Overall Rating
Intensity Level
Noise Level
Helpful Favorable Review
Helpful Critical Review
Reviews classified by Star Rating
These factors will ultimately influence your decision of which products you choose to buy, as it did mine.
On my quest to find something new & exciting, I decided to splurge on the We-Vibe Touch $89

SALE

$71.20 & Lipstick Vibrator $14.99

SALE

$11.90.
The We-Vibe Touch, slightly bigger than the palm of my hand, is made of medical-grade silicone, waterproof & doesn't require batteries. There's numerous vibes that vary not just in speed, but pattern & intensity. The volume is considerably low, consisting of a rumble. My only complaint is having to keep track of the 3 pieces needed to charge it (the toy, cord & connector between the two).
I expected something cheesy with the Lipstick Vibrator but was pleasantly surprised otherwise. It looks so true to it's "masked" form that I have no problem carrying it around, EVEN having it seen, in my purse. You simply twist the tube to turn it on, as if you were twisting it to push your lipstick up & down. Shockingly, it conjures up an extremely powerful, fast vibe. Who would of knew? The down side is it's a high pitch noise impossible to ignore. With that said, it's not as discreet "sounding" as it looks.
If toys aren't your thing, that's OK too. The fun don't stop there.
Spice up your love life in other ways!
EdenFantasys
has a broad range of related products readily available for purchase such as candles, massage oils, edible creams,
romance kits
,
erotic DVDs, books
,
lingerie
(
average & plus size
) & the list goes on. Shopping online is convenient & a lot less awkward than doing so in person. Don't limit yourself; there's something for everyone's taste!
P.s. EdenFantasys supports Breast Cancer Awareness!
EdenFantasys.
Twitter. Facebook. EdenTube. YouTube.
-EDENFANTASYS GIVEAWAY-
THE WINNER WILL BE SENT A $50 GIFT CODE TO PURCHASE WHATEVER THEY DESIRE

open Worldwide. entries close Monday, October 31st @ 11:59pm. the winning comment # will be randomly generated by http://www.random.org/